Recommendation to all Australians: Halve the bad and double the good
There are few reasons to celebrate in the CSIRO Healthy Diet Score 2016 report which shows that the average diet score is just 59 out 100.
As many as 80 percent of the 86,600 respondents received an individual score of less than 70 which is the benchmark score. However, Professor Manny Noakes, Research Director at CSIRO, sees opportunity in the otherwise poor scores.
"All people need to do is halve the bad and double the good. In other words, halve the amount of discretionary food you eat and double your vegetable intake," says Professor Noakes.
"If we can raise our collective score by just over 10 points, we help Australia mitigate against the growing rates of obesity and lifestyle diseases such as heart disease, type 2 diabetes and a third of all cancers."
Junk food nation
One of the biggest culprits for the low overall score is discretionary foods. Practically all of us - 99 percent - eat some junk food throughout the week. On average we eat almost 19 serves of discretionary foods each week.
Discretionary foods are not a necessary part of a healthy dietary pattern. Alcohol, chocolate and confectionary, cakes and biscuits and sugar-sweetened beverages are the main discretionary foods that we eat.
Even worse - it is likely that the results from the Healthy Diet Score are not telling the full story.
"We find that there is often a tendency to under-report on certain types of food, so in all likelihood that figure is even higher," says Noakes.
Women eat better than men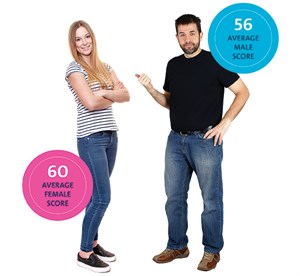 One of the findings in the report is that women have a better diet than men - although still not a great diet. Women score an average of 60 while men score an average of 56.
Women score a lot better on vegetables (73) than men (61) and also when it comes to discretionary foods where women score 33 and men 26. Obviously, both have room for improvement when it comes to discretionary foods.
Men tend to overindulge with alcohol and women tend to overindulge with chocolate and confectionary.
Age and occupation matter
Another finding from the CSIRO Healthy Diet Score 2016 is that older Australians on average score better than younger Australians.
Older people tend to drink too much alcohol while younger people tend to eat too much chocolate and confectionary. However, all age groups consume too much discretionary food.
Occupation matters too - construction workers (average score 54), unemployed people (average score 54) and people in sales and distribution (average score 55) score well below the average. Australians working in the health industry had the highest average score at 62.
The more you weigh, the lower you score
Normal weight Australians scored an average of 61 compared with overweight individuals who scored 58 and obese people who scored 56.
However, it is obese men who have the most room for improvement with an average score of 52. Obese women do a little bit better with a score of 57.
Again the biggest culprit is too much discretionary food where obese men score only an average of 21 and obese women score 27.
What can I do?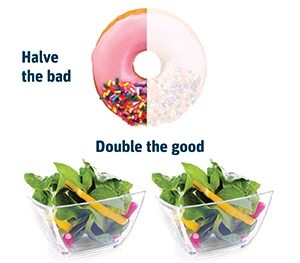 First of all, follow Professor Noakes' advice to halve the bad and double the good. That means halve your discretionary food intake and double your vegetable intake.
Then, complete the CSIRO Healthy Diet Score yourself to get some suggestions to how you can eat better. It only takes about 10 minutes but gives you an amazing insight into your own dietary habits and may be a real eye opener for what you can do to improve your diet.
Finally, join the CSIRO Total Wellbeing Diet. It is designed by the CSIRO and has been scientifically tested and can help you improve your eating habits.
Read the full report
The complete 2016 Healthy Diet Score report is available to download on our Research and Reports page.