Is your job too busy to find the time to eat healthy and exercise?
Consider Sue Lines, who works as a Senator in the Federal Parliament, and who also is one of our most successful members. If Sue can find the time to lose weight, you can too!
Life as a politician is not easily combined with a healthy lifestyle. Being a Senator involves formal events at irregular hours and always being on call for the media. It also means eating meals that you haven't cooked yourself and very long days at work.
Despite these obstacles, Sue managed to lose 32.5 kg* with the Total Wellbeing Diet - and she's kept it off since 2014!
*In 18 months. Individual results may vary. 
Sue's turning point
"One of the things I do as a Senator is obviously speaking in Parliament. And that's all broadcast and videoed and I would look at myself before I lost the weight and didn't like the way that I looked," says Sue.
Sue made the commitment to lose the weight after being offered to go away with the Australian Defence Forces for 2 weeks. She knew she would have to be active during this period, so she said to herself, 'this is it, today is the day' and she went online and joined the Total Wellbeing Diet.
Structure and community
The reason she chose the CSIRO Total Wellbeing Diet was simple: she already had one of the cookbooks at home. However, the online version of the diet provided two more things that were crucial to her success: a sound structure and a supportive community.
"For me the key is just being organised about what you're eating and what's coming up and that's how I manage it," she says.
"We had a very long federal election and I stayed on the diet and did my exercises every day, just simply because I was very organised about what I did."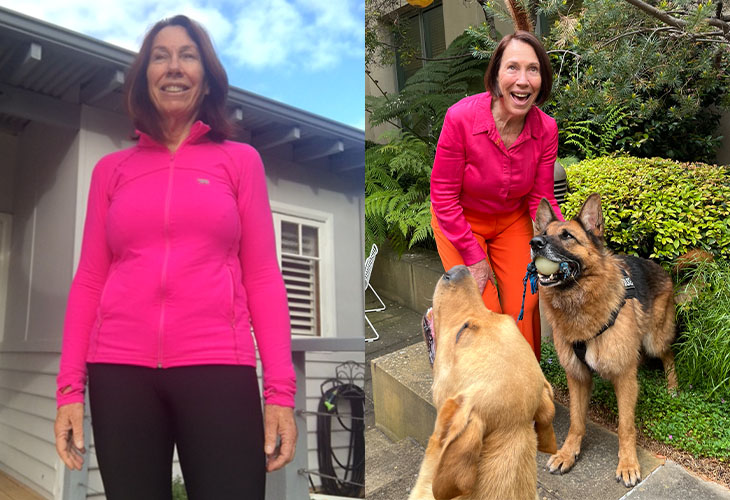 Active again
Sue joined the diet together with her partner, as she says, her enthusiastically, him reluctantly. But they have both had amazing results. They've gone from being not very active at all to exercising more or less every day.
"I've got a personal trainer but I also do running and walking and a whole variety of stuff. My partner has really got keen on cycling and it's something we can talk about as a family," Sue says.
"If we want to go hiking or walking, it's not an effort anymore, because both of us are fit and healthy and keen to keep ourselves that way and keen to exercise."
What Sue has learned
So - what has Senator Sue Lines learned from her time with the Total Wellbeing Diet?
"One of the things that I've learned with the Total Wellbeing Diet online community is to not beat yourself up over it - we all make mistakes," she says.
"I think it's part of normal life to mostly eat healthy and then to occasionally overeat. It's about getting yourself back on track but being aware of going into situations where a lot of food is going to be available."
"Now that I've lost the weight, I can wear tailored clothes, clothes that look really good and so I feel a lot better and I feel more confident about myself."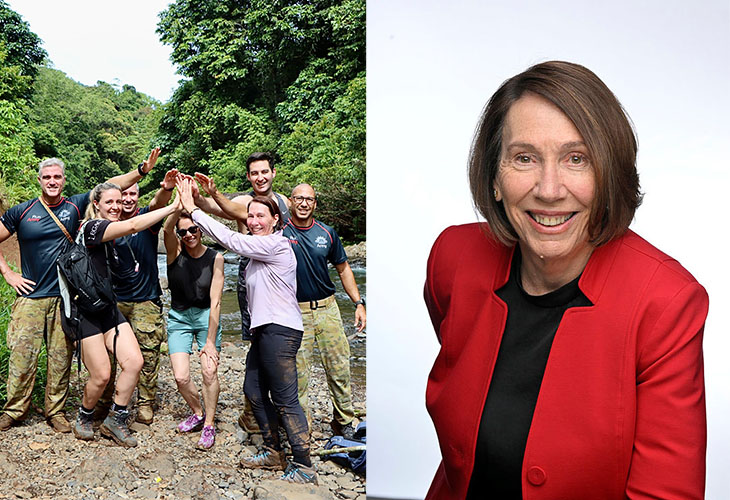 How Sue kept the weight off long-term
Sue believes that consistency is key to her long-term weight loss success. She doesn't let changes in her routine shake her, she uses the Total Wellbeing Diet app regularly and she makes sure to prioritise moving her body every day.
"As a senator for Western Australia, I travel extensively for Canberra sittings and often fall out of routines. I've made it a personal priority to stay within my routine even when faced with usual work hours and international delegations abroad."
"When in Perth I attend bootcamp twice a week and PT twice a week, I find the social and physical benefits so rewarding. I try to walk every morning and do yoga. I am also strict with my commitment to meal planning. I rarely stray from my plans and I don't let inconsistencies in my routine shake me, while always leaving room for a little treat after a long day."
"Consistency has been key in my weight loss journey. I am very committed to keeping health and wellness as a priority for me, I enjoy finding times in my day to move my body and look forward to my well balanced meals at the end of a very busy day."
Are you trying to lose weight? Read our comprehensive guide on weight loss to understand where to begin, what happens when you lose weight and what doesn't work when it comes to dieting.