How much do you think losing 83 kg would change someone's life? In Sarah's case, absolutely everything changed.
Sarah joined the CSIRO Total Wellbeing Diet morbidly obese at 158 kg and suffering from all the pains, physical, mental and social, that come with being overweight. With hard work and a discipline she steadily lost weight until she hit her goal of 75 kg*. Amazingly, Sarah has maintained this 83 kg loss since 2017. 
*In 2 years. Individual results may vary. 
How did it all happen?
Sarah struggled with her weight pretty much since childhood. As she grew up, she was always aware of being the 'big girl' and got used to sitting back instead of participating in activities.
"My mother used to make meals all the same size so even as a young child I was eating the same size portions as my older brothers; and I was always told to, "eat everything on your plate," Sarah says.
"As a result, not only did I gain weight, I became accustomed to eating big meals and large portions of food which then set me on a cycle of steadily increasing weight over the years as I simply ate far too much food."

The uniform is too small
Sarah made the decision to change her life when her work rebranded their work uniforms.
"I was too embarrassed to say that I needed a size 28 so I asked them to bring their largest size. When they arrived the largest size they had was a 26. I tried it on and of course it didn't fit – I couldn't even get my arms in the sleeves let alone get it around me," she says.
And that was the moment when Sarah made up her mind.
"I was mortified but bought the shirt anyway – two shirts in fact – rather than let anyone know. We still had our old shirts which we were allowed to wear until the new shirts arrived and I thought; 'Well I better do something or the new shirts will arrive and I will have to explain why I can't wear it'!"
Trusted the CSIRO
Sarah joined the CSIRO Total Wellbeing Diet because she felt the CSIRO had an integrity she could trust. It also helped that she could get a refund of her program fee when she completed the program successfully. It was pretty much love at first meal.
"I love the foods which were just simple, everyday things I could buy from the supermarket. I love the way that I could choose to have different meals everyday but could also choose to swap meals so that I could eat the same thing," she says.
A problem Sarah found with other diets was exactly that: meal plans were too prescriptive and complicated which often meant buying a whole lot of food which ended up not being eaten.

How life has changed
At her heaviest Sarah suffered from crippling headaches and pretty much lived on headache tablets. Today she can't remember the last time she had a headache.
From sitting in the car park too embarrassed to enter the gym, Sarah is now the reigning Grand Champion of the gym's body transformation challenge. As well as weight lifting, she enjoys boxing, high intensity interval training, bike riding and simply walking.
"I now hate sitting still and just love being active and living life. I have never felt better or been happier than I am now," she says.
At the end of the challenge I bought a pair of size 10 jeans and you couldn't wipe the smile off my face for days!
So, what's changed for Sarah since she lost the weight? In a way it's the everyday things she appreciates the most.
"It's crazy simple, silly things that count when you've been obese your whole life," she says.
"Fitting into chairs in restaurants, not always being the biggest person at the party, doing up the seatbelt on an aeroplane, not having to hide at the back of a group photo to try and not be seen, walk up a flight of stairs without being out of breath, walking anywhere without being out of breath."
Looking for weight loss motivation, dinner inspiration or exercise ideas? Check out the CSIRO Total Wellbeing Diet blog or read more incredible success stories.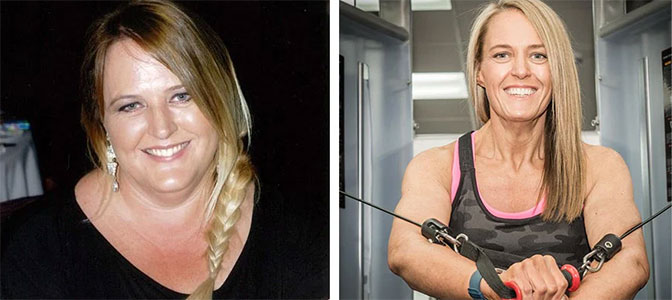 How Sarah has maintained her weight loss for more than 6 years
Since 2017, Sarah has successfully maintained her weight loss, despite experiencing some obstacles along the way. 
"I continually had 'set backs' but I have learned over the years not to use negative speak such as that as real life involves both good and bad times that makes you go off-track."
"I think one of the greatest strengths of the CSIRO Total Wellbeing Diet is that unlike other diets where you receive pre-packed/prepared meals that do not teach you anything, the Total Wellbeing Diet provides you with real tools and education on how to cook, what to cook, and portion sizes. This gives you real tools moving forward that if the wheels really fall off, you have the knowledge and the skills to go back to basics and apply that knowledge to get "back on the bus" and reset your journey."
"I learned that you can reset as many times as you need just as long as you never give up."
Sarah found the program's recipes and meal plans to be fantastic and adaptable, and she continues to use them daily.
"I still to this day continue to use the recipes and meal plans as the food is fantastic and you learn how to adapt and make endless meal choices. I have always loved the measurement body tracker in the program as this gave me a really tangible and visual that I found very motivating."
"The CSIRO Total Wellbeing Diet was never a quick fix weight loss. It was a wonderfully informative, and educative way to learn to live a whole new lifestyle that allowed me to develop a love of healthy, fresh food and to find a passion for exercise which is now something I could never live without.
"After losing around 25 kg, I joined a gym and fell in love with lifting weights and that is why I start every day with a 5am gym session that sets my mental health and prepares me for the stresses of the day."
"Because of that decision to join the CSIRO Total Wellbeing Diet, I now live a life I never dare dreamed possible and I couldn't imagine life any other way anymore."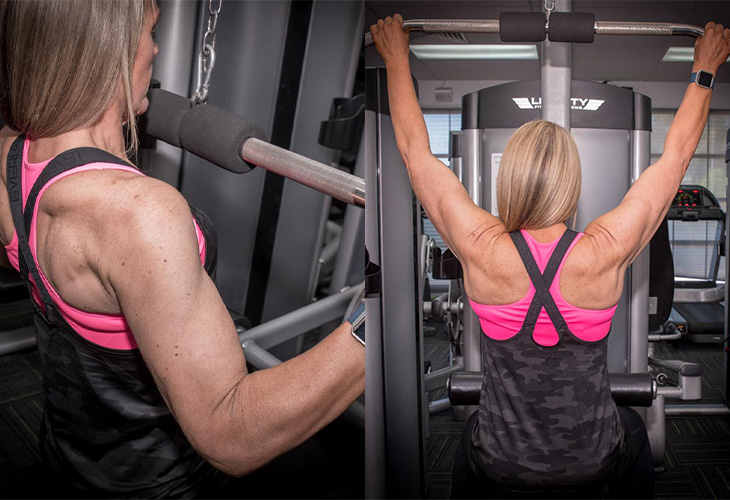 Sarah's top tips for staying motivated
Write down your goals. I have found keeping a journal really important for keeping motivated, and most importantly to write down my goals and if I am feeling like giving up, to read them and revisit why I started and what I am aiming for and this helps to reignite your fuel to keep moving forward.


Break your weight loss into smaller, achievable goals. I found that the early results in this program were so good that this really spurred me to keep going and kept me motivated, but I have learnt along the way that when you have a bad day, accept it, don't punish yourself, let it go and move on.


Reach out if you're struggling. The main question I get asked repeatedly is 'how do you stay motivated', and people who have fallen off the wagon and had a bad day struggle with getting back on track. I think the support network of the private Facebook group is absolutely critical as people realise they are not alone, and that everyone has those bad days and that you can get past them and keep moving.
Are you trying to lose weight? Read our comprehensive guide on weight loss to understand where to begin, what happens when you lose weight and what doesn't work when it comes to dieting.