We are excited to feature three Total Wellbeing diet recipes adapted* for Thermomix Smart Kitchen appliances to share before back-to-school season starts. Check them out below and enjoy!
Mediterranean Mini Muffins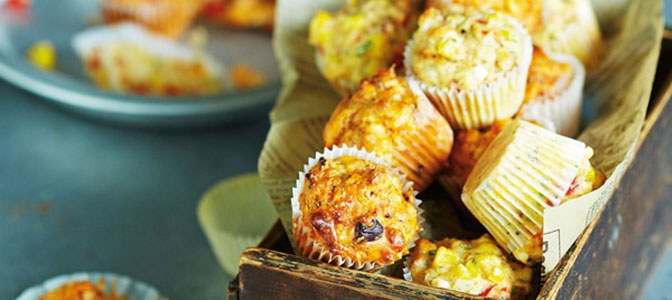 Portions: 24 mini muffins
Ingredients
1 brown onion, halved
1/2 red capsicum, deseeded and cut in half
1 tbsp olive oil, plus extra for greasing
1 tsp of dried Italian herbs
50g reduced fat cheese, cut into cubes
45 g wholemeal self-raising flour
45 g white self-raising flour
1/2 tsp smoked or sweet paprika
Salt, to taste
Pepper, to taste
4 tbsp low-fat milk
1 egg
2 tbsp sliced black olives
1 tbsp no-added-salt tomato paste
Instructions
Preheat the oven to 180°C and grease a 24-hole mini-muffin pan with olive oil.
Add onion and capsicum to mixing bowl and chop 5 sec/speed 6. Scrape down sides of bowl.
Add olive oil and dried herbs and cook 5 min/Varoma/speed 1. Set aside mixture to cool. Clean and dry mixing bowl.
Add cheese to clean mixing bowl and grate 10 sec/speed 9.
Add flours, paprika, salt, pepper, milk, egg, olives, tomato paste and reserved onion mixture to mixing bowl and combine 10 sec/speed 5.
Spoon the batter into the muffin holes, filling each to two-thirds full. Bake for 12-15 minutes, or until lightly browned, then leave to cool for 5 minutes before turning out onto a wire rack. Serve the muffins warm or at room temperature.
Salmon fishcakes with red capsicum and basil salad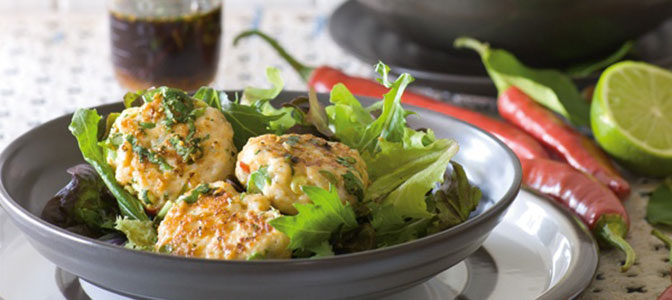 Portions: 4
Ingredients
1 lemon, zest only
3-4 sprigs fresh mint, leaves only
2 sprigs fresh flat-leaf parsley, leaves only
6 spring onions, chopped
600 g water
400 g Desiree potatoes, peeled and chopped
415 g tinned pink salmon, drained
Salt, to taste
Pepper, to taste
Plain flour, for dusting
2 tbsp vegetable oil
1 red capsicum, sliced
3-4 sprigs fresh basil, leaves only
12 cherry tomatoes, halved
2 tsp red wine vinegar
1 tbsp olive oil
1 tbsp capers
1 cup baby spinach (approx. 100 g)
Instructions
Add lemon zest, mint, parsley and spring onion to mixing bowl and chop 3 sec/speed 7. Cover and set aside in refrigerator. 
Without cleaning the mixing bowl, add water and place potato into simmering basket. Insert basket into mixing bowl and cook 18 mins/ Varoma/speed 2. Remove simmering basket using the spatula. Set potato aside to cool and discard water. Rinse and dry mixing bowl.
Add salmon, salt, pepper, reserved herb mixture and reserved potato to mixing bowl and combine 20 sec/Reverse/speed 4, using spatula through hole in mixing lid to help combine. Roll mixture into 8 balls, transfer to a plate, cover with plastic wrap and refrigerate for at least 1 hour.
Sprinkle flour onto a ThermoMat or work surface and roll fish balls in the flour and flatten gently.
Heat half the vegetable oil in a large non-stick frying pan over medium heat. Cook 4 fishcakes for 5 minutes each side, or until golden brown. Transfer to a ThermoServer or other large bowl and cover to keep warm. Repeat with 4 remaining cakes.
To make the salad, combine capsicum, basil leaves, cherry tomatoes, red wine vinegar, olive oil, capers and baby spinach in a large bowl.
To serve, divide fishcakes between 4 plates and serve with the salad.
Berry cheesecake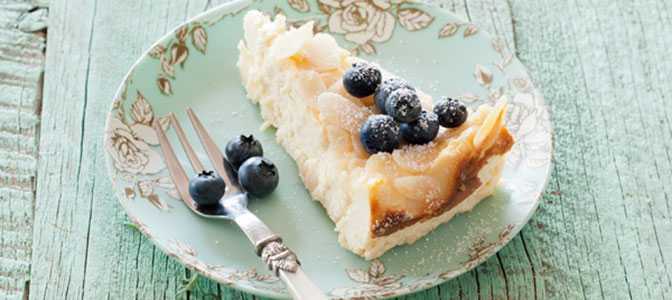 Portions: 8
Ingredients
Oil, for greasing
400 g reduced fat ricotta cheese
1 tbsp plain flour
2 eggs
1 lime, zest only
1 tsp natural vanilla extract
150 g mixed berries, fresh or frozen, plus extra for garnishing
1 tbsp icing sugar, for dusting (optional)
55 g white sugar
Instructions
Preheat the oven to 160°C. Oil an 18 cm springform cake tin and line the base with baking paper.
Add ricotta, flour, sugar, eggs, lime zest and vanilla to mixing bowl and combine 5 sec/speed 6. Scrape down sides of bowl and repeat mixing 5 sec/speed 6.
* Edited recipes from the CSIRO Total Wellbeing Diet Recipe Book by Professor Manny Noakes with photography by Alan Benson. 
Want more quick and easy meals that the kids will love? Try our Lemon tuna patties, Chicken tikka salad or Thai-style beef and bean stir-fry – all ready in 15-minutes!