For Jacqueline, the weight slowly crept on over the years. Longer work hours meant regularly skipping meals, which lead to unhealthy snacking on processed foods and more and more take aways. When she realised her family had begun to follow suit, Jacqueline knew she needed to lead by example and make a healthy lifestyle change. 
Jacqueline joined the CSIRO Total Wellbeing Diet program in October 2021. In the first 12 weeks, she lost an incredible 12.9 kg*, however, the real challenge was maintaining the weight loss. Jacqueline has continued to use the program's meal plans and recipes, and has managed to maintain her goal weight of 70.7 kg for around 17 months now.
*Individual results may vary.
Jacqueline's life before the CSIRO Total Wellbeing Diet
Before her weight loss, Jacqueline was regularly eating convenient meals – mostly take away and processed foods. She would prioritise her work and made excuses for not exercising, telling herself she just needed to work harder.
"I never had breakfast. I would drag myself out of bed, go to work then go straight for coffee. On most days not even have lunch. I would just work through. I got to a point where I would have heartburn every night and was losing sleep. Towards the latter years, I noticed that I was having trouble eating and swallowing food, with painful digestion. I had no idea of when to stop eating, I just ate everything that was there."
"I reached a point where I just couldn't bear the pain and discomfort anymore. Finding clothes that would fit became harder and harder. My husband was starting to go down the same path. He wasn't happy with our eating patterns and how we felt. I also knew at that point and at my age, I needed to take control and do something, for him and our family. I needed to lead by example and put us all on a better and healthier path."
Making a change
Looking to make a change, Jacqueline tried the 5:2 diet for a few years on and off but said that her weight plateaued and she was still having issues eating and sleeping.
"We were still eating badly on the five days where the calorie count wasn't restricted. What made me consider the CSIRO Total Wellbeing Diet was that it would teach me what I should be eating, what my body needed. I never quite believed in the food groups and portions per day. It went against what I had read through other diets and weight loss discussions. But as I had the turning point and it really focused on eating better versus just on weight loss, this diet was the right fit."
"Having an incentive on top of that was a bonus. That excited me and to be honest I didn't think I would be able to get the refund, but I was going to give it a shot."
After joining the CSIRO Total Wellbeing Diet online program, Jacqueline realised just how easy weight loss could be and since reaching her goal weight, she said she has newfound energy.
"My life is amazing now. I have so much more energy and I enjoy my food. I love preparing and cooking and I love that my family is healthier because of it. All the food is accessible, available and the meals are easy to do. My lifestyle is better because this has made it easier. I've just kept doing what it taught me. It is now my healthy habit."
"I'm now running a couple of times a week, and not panting for breath, it is actually easy and I feel like it is a form of mediation. Prior to this I always said I hate running, mainly because after 5 minutes I would be wheezing and ready to fall in a heap. Not now. I am more organised and able to prep my brekkie and lunches the night before. I'm also more diligent with our food shopping. Doing it regularly and in a planned way means when it comes to meals and especially dinner, the food I need is already there and I know what I am doing."
Consistency pays off
Like many people on a weight loss journey, Jacqueline experienced setbacks. There were times when she would start to see an increase in her weight, mainly during times when she had to travel to work and was getting home late. She realised that not planning well and eating what she thought was right, without tracking it, wasn't helping her.
"To turn it back around I reestablished a stricter oversight of my daily food units, ensuring that I was not only eating the right foods, but it was also the right balance of daily food units. I also went back to doing more meal prep so food was there to reheat when I would get home late."
Jacqueline believes that both disciplined food intake and exercise are key to long-term weight loss success. This is why she consistently uses the program's tools, such as the food and exercise tracker and the recipe finder. 
"I enter my meals in the food and exercise tracker to calculate where I am at each day. If I've eaten too much of one food group by the time dinner is up, then I adapt where I can to ensure it all works. The beauty of this tool is that you can also use it to work out if what you are wanting to bring into your diet will work, such as a new recipe you have stumbled across."
"Revisiting my pictures on the Total Wellbeing Diet website and remembering what it felt like before also helps. I like where I am today, and who I am today. Being disciplined is a small price to pay for being healthy and feeling great."
Advice for others
Try the Total Wellbeing Diet as not only will you lose weight, you will discover how you have a healthy body and healthy mind.
When you do it, follow it properly.
Give yourself the time to let it work and you will see the benefits. The first 2 weeks are probably the hardest and that is because you are breaking habits.

The whole 'eat the right portions of the food groups' is absolutely true. Throughout the whole 12 weeks I was surprised at how full I felt, and how much I enjoyed the flavours and varieties in which the food can be made and consumed. 

The other piece of advice I can offer is if you can exercise make sure you do. This goes hand in hand with you being healthy.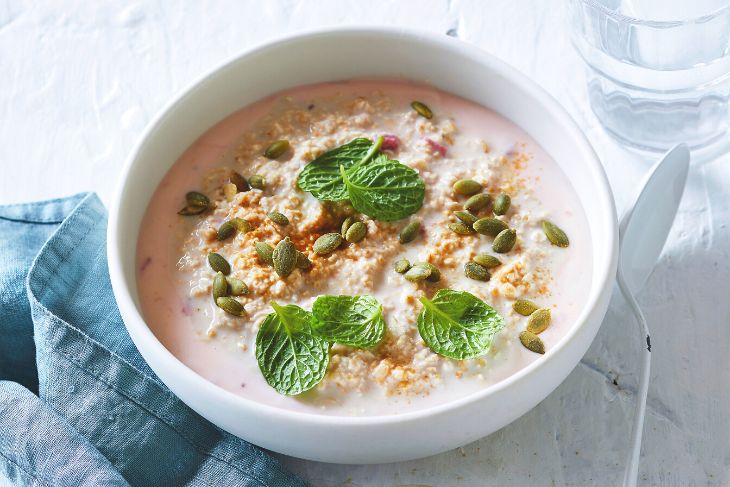 Jacqueline's day on a plate
Breakfast: Overnight oats and a coffee
Lunch: Four bean salad with toasted tortilla chips
Dinner: Slow-cooked lamb shoulder with pumpkin and feta salad 
Are you trying to lose weight? Read our comprehensive guide on weight loss to understand where to begin, what happens when you lose weight and what doesn't work when it comes to dieting.