Toby had been battling issues with his weight for over a decade and despite trying multiple diet and exercise programs, he couldn't seem to shift the kilos. When he joined the CSIRO Total Wellbeing Diet he had almost given up on losing weight, but with our science backed program and online tools he managed to lose an impressive 20 kg* and learned a whole new way of eating.  
Name: Toby
Starting Weight: 106 kg 
Current Weight: 86 kg 
Total Loss: 20 kg 
* In 8 months. Individual results may vary. 
Toby's Story  
Describe your mindset before losing the weight. 
I felt unattractive, depressed about weight and my clothing not fitting well. I had low energy and was thinking I would get diabetes and have a lot of health issues as I aged that would make life miserable. 
I ate a lot of takeaways – I was willing to change but needed specific help and tools. Eat less or "eat this or that" was useless, too vague, and ineffective. I didn't do anything exercise wise except walking to the train for work.  
I tried diet shakes and meal replacements and water, dietitians, exercise regimens, spiritual practice, therapy – nothing really changed anything on its own as I needed practical tools. 
How has your health and mindset changed since losing the weight? 
I'm less depressed and exercising now. I didn't do any exercise at all for the first year, now it feels more possible with less weight. I am not sure if related but my vision has improved. 
I've started doing some short yoga and the CSIRO exercises and can feel the benefits, I can run for the train without having cardiac issues and gasping for breath now and can do more things like lifting and helping others with things which helps my mood. 
I want to get into the high 70 kg area and make exercise more a part of my week – I still find the 30 mins 3 times a week overwhelming but I do little bits – at first just 5 mins 3 times a week and work up from there. 
What was it about the Total Wellbeing Diet that worked for you? 
The tools. The meal planner and the tracker are awesome – cookbooks just freak me out and my head was full of work, family, and friends! My willpower is limited so it needs to be placed smartly and aided by tools like the tracker and the meal planner.  
Without the tracker, I wouldn't have done it – it would have been too hard. The tracking made it possible to know what I could eat for rest of the day, often I would be tired and unmotivated and be in a daze and just want to eat - but feel joy to see that I can eat 1 bread unit and 1 dairy unit, which means low-fat cheese on toast! 
I am a Craver on the CSIRO Diet Types Quiz, I love eating. I eat for comfort so having indulgences was a lifesaver. Trying the healthy desserts was a relief I could still have sweet foods without blowing the program – recipes I would never be able think of – black bean brownies and going to try a sugar-free apricot strudel next week – filling but still satisfying. 
Related: See some of our delicious healthy desserts here! 
What are the 5 biggest lessons you learnt on your TWD journey?  
How much a serving size is – I was in shock about the whole "you can have one teaspoon" business – before I would add a cup of sauce, or 3 times the amount of protein and carbs. I need the scales to eat what I need plus lots of water.  
That there was a lot of underlying issues around why I overate that needed to be addressed, emotionally, spiritually. Having tools to do the food planning and choosing took the pressure off using my limited willpower to change, so I can utilise it to be more effective in changing my life! 
That Australia is mostly an overweight country and people have warped perceptions of what is overweight. Some people thought I was overreacting when I was just aiming to be healthy, but they are basing the judgments on their own whimsy and not on any evidence. I was technically obese! I was surprised by the strong reactions people had when I started losing weight and wanted to tell me "the facts", so having something based on science is very reassuring.  
It was also interesting how many people pushed junk food onto me because of their own issues or treated me differently because of my weight – if I kept saying yes to every chip and cake, I would never have lost the weight. I had to be willing to look after myself first and let go of their hurt feelings and issues. 
That healthy food choices are really hard if you don't prep yourself as the proportions are out of whack in most social settings. 
What advice do you have for others trying to lose the weight? 
Find and trust your instinct and trust in science not in random internet searches or the whimsy of well-meaning but misguided people.  
At the end of the day, you are the one that lives in your own body until you die and you actually have the right to be healthy and well. This is a human right! 
Also, remember it's not really a diet, it's a massive change of lifestyle so stick around people that encourage you. 
Related: Learn more about the diet and science here 
Toby's day on a plate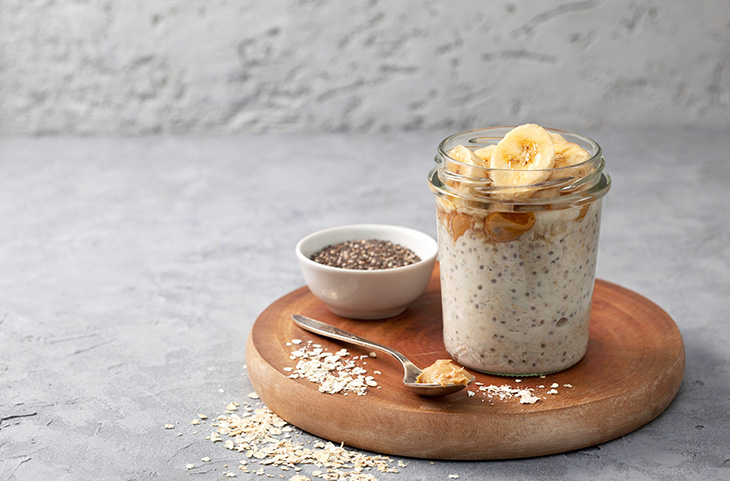 Breakfast: Nutty banana overnight oats  
Lunch: Portuguese chicken open sandwich 
Dinner: Protein and veggies