For Jacqueline, the weight slowly crept up over the years. Longer work hours meant regularly skipping meals, which lead to unhealthy snacking on processed foods and more and more take aways. When she realised her family had begun to follow suit, Jacqueline knew she needed to lead by example and make a healthy lifestyle change. 
Starting weight: 83.6 kg
Current weight: 70.7 kg
Total loss: 12.9 kg*
*In 12 weeks. Individual results may vary.
Jacqueline's story
Describe your life before the CSIRO Total Wellbeing Diet
Before my weight loss I was regularly eating convenient meals that I could put less time into preparing and cooking – mostly take away and processed foods. I would prioritise my work, which I used to make excuses for not exercising. Even though in the back of my mind I knew that I needed to put effort in, I would always tell myself I will just work harder when I start to put the weight on. It never worked out that way though. I never had breakfast. I would drag myself out of bed, mumble and groan about having to go to work and go straight for coffee and on most days not even have lunch. I would just work through.
I also got to a point where I would have heartburn every night and was losing sleep. Towards the latter years I noticed that I was having trouble eating and swallowing food, with painful digestion and certain foods just not agreeing with me, making me feel miserable and tired as well. Every time I ate, I just ate everything that was there because I could. I had no idea of when to stop.
I reached a point where I just couldn't bear the pain and discomfort anymore. Plus, I hit a point when size 16 was becoming too small for me and finding clothes that would fit became harder and harder. Secondly my husband was starting to go down the same path – heartburn, lack of sleep, clothes not fitting. He wasn't happy with our eating patterns and how we felt. I also knew at that point and at my age I needed to take control and stop feeling sorry for myself and do something. If I didn't figure out how to look after myself better, I wasn't going to be around for much longer. And nor was he. I needed to do this for myself, for him and our family. I needed to lead by example and put us all on a better and healthier path.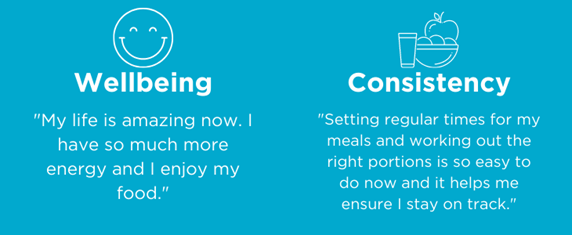 How has your life changed since you lost the weight?
My life is amazing now. I have so much more energy and I enjoy my food. I love preparing and cooking and I love that my family is healthier because of it.
I'm now running a couple of times a week, and not panting for breath! It is actually easy and I feel like it is a form of mediation. Prior to this I always said I hate running, mainly because after five minutes I would be wheezing and ready to fall in a heap. Not now!
I am more organised and able to prep my brekkie and lunches the night before. I'm also more diligent with our food shopping; doing it regularly and in a planned way means when it comes to meals and especially dinner, the food I need is already there and I know what I am doing.
I also no longer have heartburn, digestion problems or trouble swallowing food. And neither does my husband. Exercising is easier and I am happier in general. I feel like I can think more clearly, I can focus, plan, set goals and actually achieve the right outcomes. Life is so much better, enjoyable and my outlook is clearer. I can't believe I didn't do this sooner. 
Why do you think the CSIRO Total Wellbeing Diet worked for you?
What made me consider the CSIRO Total Wellbeing Diet was that it would teach me what I should be eating and what my body needed. I never quite believed in the food groups and portions per day – it went against what I had read through other diets and weight loss discussions. But as I had the turning point and it really focused on eating better versus just for weight loss, this diet was the right fit.
CSIRO Total Wellbeing Diet digital tools and the app enable you to plan, list your groceries and check in on what you are doing. Everything just fell into place because I could do that, and because I could see how what I was doing was making a difference.
All the food is accessible and the meals easy to do. My lifestyle is better because this has made it easier. I've just kept doing what it taught me. It is now my healthy habit.
No longer having health issues says it all to me. Obviously, the right food gives your body the right fuel, and allows your body to function the way it should. This has changed my life in ways I never thought possible.
How did the incentive of a refund motivate you during the program?
After Googling and contemplating several times whether I wanted to commit and spend money, the refund incentive helped get me over the line. It was also a point of difference with other diets/regimes not doing that. 
I found it easy to meet the eligibility criteria for the refund because I'm organised and like to plan, so it suited me really well. 
At times just losing the weight spurred me on but every now and again I would come back to the thought around how good I will feel losing weight and getting a refund. Towards the end though the refund became an added bonus as my mindset had shifted already.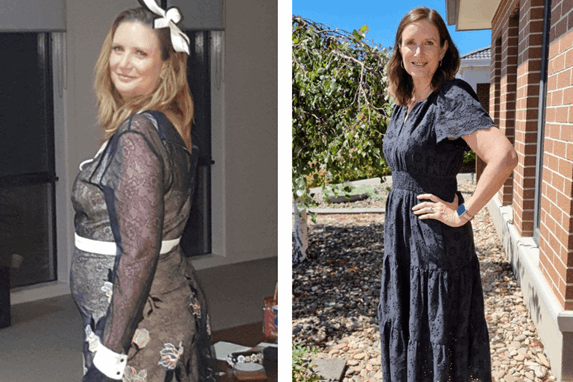 Jacqueline before and after
What advice do you have for others trying to lose weight? 
Try the CSIRO Total Wellbeing Diet as not only will you lose weight you will discover how you have a healthy body and healthy mind.
When you do it, follow it properly. Give yourself the time to let it work and you will see the benefits. The first two weeks are probably the hardest and that is because you are breaking habits. For example, I used to eat chocolate in the evening as it was something to look forward to after having a long day at work, but there was absolutely no reason why I had to have it. It started off as a once a week luxury to then a nightly ritual, a habit. I soon realised that I didn't even miss it and I felt so proud of myself. That feeling was even better than the feeling of eating chocolate, then feeling guilty as I had eaten too much. So think about why those habits were there. Why did these habits form and what were they really addressing? When you know that and you work on that issue in another way, like running or mediating, it can help shift your mindset and take control.
I would also say that this whole 'eat the right portions of the food groups' is absolutely true. Throughout the whole 12 weeks I was surprised at how full I felt, and how much I enjoyed the flavours and varieties in which the food can be made and consumed. Eating regularly and the right portion sizes makes a difference. Make sure you follow it.  
The other piece of advice I can offer is if you can exercise make sure you do. This goes hand in hand with you being healthy. Although you might get away with not exercising, I can say the more you do the more rewards you will get. Throughout my 12 weeks I have noticed if I slack off my weight fluctuates. When I put a steady effort in my loss was more regulated and easier.
Jacqueline's day on a plate
Breakfast: Overnight oats and a coffee
Lunch: Four bean salad with toasted tortilla chips
Dinner: Slow-cooked lamb shoulder with pumpkin and feta salad