Like many others, Monique found herself facing the common pandemic challenge - lockdown weight gain. When life went back to normal, those extra kilos didn't seem to budge. Working from home while looking after her small children and indulging in comfort eating, she willingly cast aside her knowledge of mindful, healthy eating. 
Her moment of truth came after seeing a former colleague's incredible weight loss journey on social media. Her initial feelings of envy quickly turned into her own sense of disappointment at her own appearance. It was the motivation she needed to join the CSIRO Total Wellbeing Diet and start her own transformation. 
Name: Monique
Starting Weight: 84 kg
Current Weight: 69 kg
Total Loss: 15 kg*
*Lost 10 kg in 12 weeks, then lost a further 5 kg after the 12 Week Program. Individual results may vary.
Monique's Story
How did you put on the weight?
Like many people, I gained weight during the Covid lockdown period and didn't put in the effort to lose it once life started to return to the 'new normal'. Between working from home while caring for small children and eating for entertainment, I just threw everything I knew about healthy, moderate eating out the window.
Describe your life before the weight loss, including your eating and exercise habits. Are there any incidents you can recall where your weight was an issue?
Before the weight loss, I was dissatisfied with my appearance, but more importantly, I lacked energy and flexibility. Fortunately, I didn't experience any significant long-term health issues.
My eating habits were centred around consuming a lot of ready-made foods with heavy sauces, along with large portions of rice or pasta.
Most of the time I chose to ignore the impact of my eating choices. However, moments like seeing a bad photo or catching a glimpse of my reflection in a window made me miserable. I no longer recognised myself.
What was 'your moment of truth' that made you decide you finally had to lose the weight?
I had my 'moment of truth' when I came across some pictures of a former colleague on social media. They had shed weight and were in great shape from weight training. At first, I thought, 'Look at them, showing off.' But then I took a moment to reflect and recognised my response was about me being disappointed with how I looked, and I realised I didn't want to be the kind of person who feels jealous about someone else's success. Within a few days, I finally took real action and signed up to the CSIRO Total Wellbeing Diet.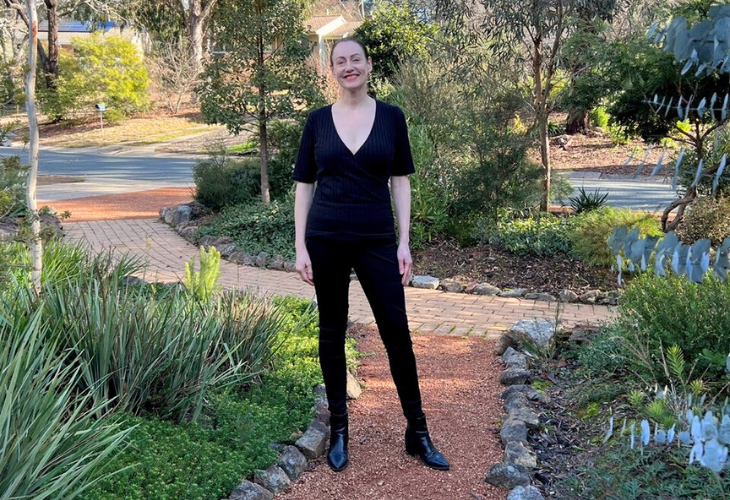 Have you tried other diets in the past and why did you choose the CSIRO Total Wellbeing Diet?
I'd describe my nutritional literacy as high, so I understood most gimmicky diets and detox's were rubbish. I was interested in intermittent fasting because it seemed to be backed by some science, but I didn't find it sustainable.
I chose the CSIRO Total Wellbeing Diet for two reasons, first, I trust the CSIRO as an institution committed to evidence based science, and second, because several people I knew had tried it and said they found it effective and sustainable.
I have found the diet to be the perfect 'reset' for me. It took me back to basics, taught me a few new things, and gave me a structure I needed to get back on track.  
Did you overcome any health ailments after the weight loss?
My biggest issues were fatigue and discomfort, which have been greatly relieved. Thankfully, my other metrics like blood pressure, blood sugars and cholesterol didn't get too far out of control.
Describe a typical day now in terms of what you eat (including favourite breakfast, lunch and dinner recipe from the program) as well as exercise?
I have been freestyling (which means not following a specific menu plan but adhering to general principles) from about a month into the program. This approach works well for me because it makes mealtimes easier with my family, eliminates the need for a highly specific shopping list, and allows me to make informed choices based on my understanding of nutrition.
I have also been more consistent with exercises I enjoy, such as walking and bike riding.
However, there is one thing I always do, which is tracking everything. Guessing portion sizes (rather than measuring) or 'forgetting' to track snacks or components of a meal only undermines my progress towards my goals. Being honest with yourself pays off.
Describe how your life has changed since losing the weight? Are there any activities that you do now that you never thought you would be able to do before?
Since losing the weight, my overall well-being has improved significantly. The most rewarding change is being able to engage more actively with my kids and enjoy running around with them. Additionally, it's an incredible feeling to put on an outfit and genuinely feel good about my appearance once more.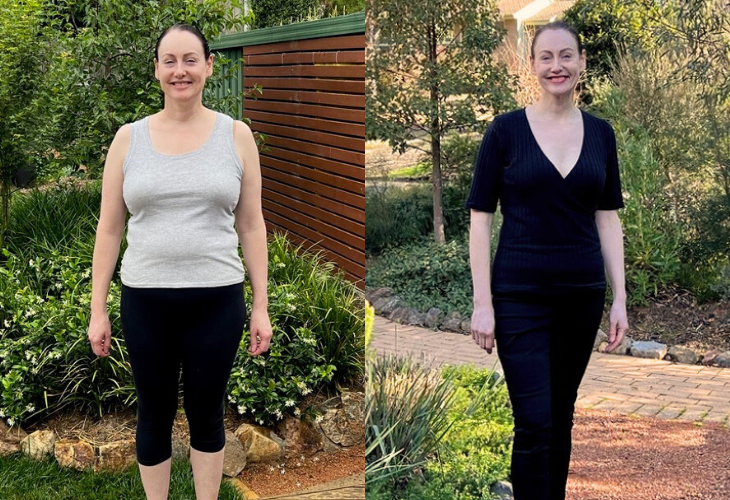 Do you have any goals and aspirations for the future?
My primary goal is to maintain a healthy lifestyle and the weight that I am comfortable with. I feel content with my current weight and don't feel the need to lose any more. My focus now is on sustaining my progress and continuing to lead a healthy and balanced life.
What is the biggest lesson/s you have learnt from the whole journey?
I learned that this time around I needed support to lose weight and fortunately I chose the right program for me. When I was younger and had more time, more energy, and more choice about the food around me, maintaining my weight seemed easy. At different points in our life, we might need a little (or indeed a lot) more support, and that's alright.
What advice do you have for others trying to lose the weight?
I don't feel like I'm the right person to give anyone advice about weight loss, but I will say that I think the CSIRO is. If you are ready to make reasonable and long-term changes to your lifestyle, the CSIRO Total Wellbeing Diet could be the program that gives you the support you need to reach your goal weight.
What are your top 3 reasons why the CSIRO Total Wellbeing Diet worked for you?
Education, well designed tools and a supportive online community.
Are you trying to lose weight? Read our comprehensive guide on weight loss to understand where to begin, what happens when you lose weight and what doesn't work when it comes to dieting.