Clothes shopping for larger sizes and seat belt extensions were always inconvenient issues for George, but it was when his health was put in danger that he decided it was time to lose the extra weight. Since losing 35 kg* with the CSIRO Total Wellbeing Diet, George has gone from sedentary to cyclist – and now rides between 50–80 km every week! 
Starting weight: 138 kg
Current weight: 103 kg
Total loss: 35 kg*
*In 12 months. Individual results may vary. 
George's story 
Describe your life before the CSIRO Total Wellbeing Diet 
Being of Italian background, we always had an occasion where food was the focus of the gathering. We were also encouraged to eat everything on our plate, including the main staples of pasta and bread.
Recently we would resort to takeaway food as an easy alternative for dinner if we were tired or came home late from work. Exercise was almost non-existent except for the occasional walk after work.
Over the years I've had various problems with my shoulders. Recently I've had nerve pain injections in my shoulders, but the surgeon told me that it was too difficult because I was a "big boy" and the spot was hard to access. I was in pain and really needed the procedure done so I decided to give the CSIRO Total Wellbeing Diet a go.
How has your life changed since you lost the weight? 
Before starting the diet, I was suffering from high blood pressure, fatty liver and was borderline being diabetic. Once the weight started coming off these all disappeared! Now I suffer from none of the above and am in good health; my doctor was surprised!
I also find exercise to be more enjoyable and have been in training to do the MS Sydney to Wollongong ride this year. Unfortunately, it was postponed due to Covid but I'm on track to complete it early in the new year. I purchased a Smart Bike Trainer and have completed the ride virtually a couple of times already.
I now find I have more energy and don't get tired while at work anymore. We climb a lot of stairs during the day, which is now easier.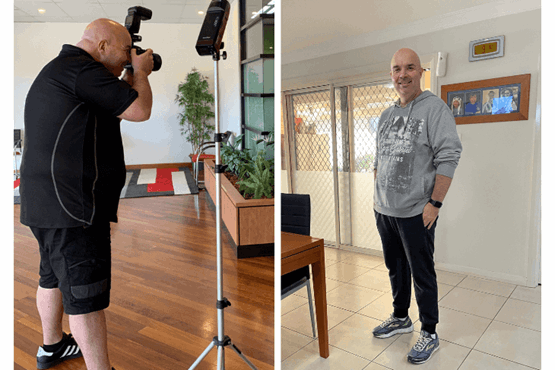 How important were these three behaviours to your success: weighing in regularly, tracking your food and following the meal plan? 
Weighing in regularly was very important as this showed me how I was progressing. Once I saw the weight and measurements going down, I felt motivated. It showed I was heading in the right direction.
Keeping track of my food actually showed me how I had been eating incorrectly all these years. Knowing the correct portion size and the amount I should be eating of each food group helped me learn what I should and shouldn't be eating.
The meal plan was so easy to follow and a God send. I even had the flexibility to change some of the menu items to suit the family. 
Why did the CSIRO Total Wellbeing Diet work for you?
The meal plans are set out for you. CSIRO Total Wellbeing Diet has done all the hard work for you.

The online group is a great source of support and encouragement.

The incentive of a refund made me really try harder but once I started I kept going and reinvested the refund in again.
What advice do you have for others trying to lose weight?
Losing weight is not a race. Follow the guidelines and you'll get results. Just don't give up, and celebrate every achievement! I set myself small reachable goals which kept me motivated. I also had great support from the family and a lot of encouragement. We did this as a family which made it easier.
Never give up and you are never too old to start!
George's day on a plate 
Breakfast: Peanut butter and toast
Lunch: Vietnamese chicken sandwich
Dinner: Thai-style beef and bean stir fry
Check out some more inspiring CSIRO Total Wellbeing Diet success stories.