What about indulgences?
Let's be honest, a healthy portion is almost always smaller than the average portion most of us eat. According to results from the CSIRO Healthy Diet Score, the average Aussie is actually consuming three times more junk food a day, compared to the allowance of 1 indulgence on the CSIRO Total Wellbeing Diet.
Here's what those portions look like: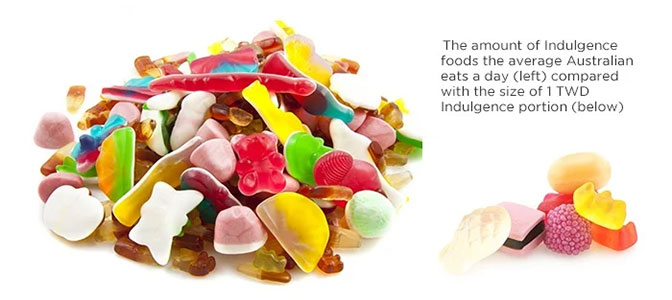 A good rule of thumb for snack foods is a cupped hand is equivalent to a small 20-30g serving of chips, pretzels or similar snack foods.
So while it might be tempting to fill your plate with a large steak at your next meal, it may help to remember that bigger is not always better, especially when it comes to managing your weight. As shown above, a healthy portion of steak should be about the size of your palm.
Similarly, having a bowl of pasta or a large steak with a side of fries – a largely carb-rich meal - usually means you'll be consuming unnecessary kilojoules and a meal that is lacking in essential vitamins, minerals, health-promoting phytonutrients and fibre that comes from veggies.
But by being mindful of your portion sizes, you can better manage both the quality and quantity of your food, plus keep your healthy waistline in check.