Sheree's Story
Tell us about your life before the CSIRO Total Wellbeing Diet
I put on weight over the years by eating the wrong things and not exercising enough. I could see what was happening but I put it down to menopause, and because I was registering 10,000 steps on my Fitbit most days, I thought I was doing okay.
Being retired meant I was home for most of the day and I was constantly nibbling at the wrong food. I pretty much ate every junk food under the sun: pizza, KFC, Carl's Junior Burgers, hot chips, crisps, biscuits, cake, chocolate – you name it.
I started to realise I was having problems when I boarded a plane and had trouble doing up my seatbelt. Then I went to the doctor with a sore knee and she decided to weigh me. She told me that I was on the way to being morbidly obese, which was definitely a wake-up call.
How has your life changed since losing weight?
I'm honestly surprised that most of the fast-food stores haven't closed due to my lack of patronage! Now when we go out to eat, I check the menu online first to make sure there's a salad option rather than my previous orders of either schnitzel or salt and pepper squid. I don't eat hamburgers or KFC either. 
I still love dark chocolate, so I have one little square each night, plus a teaspoon of ice cream. And I'll have the occasional hot chips and pizza, but I've honestly learned to like vegetables and fruit.
I have so much more energy and can run up the few small steps to our backyard instead of struggling to walk up. I even went on a two-week cruise with my husband and for the whole two-weeks I didn't use a lift once, it was stairs all the time!
I'm walking a lot more, with the aim to do at least 15,000 steps a day, and my blood pressure medication has been reduced dramatically to the point that I'm hoping not to need any in the future.
I can't thank the CSIRO Total Wellbeing Diet enough for giving me the tools to lose weight and to eat healthy.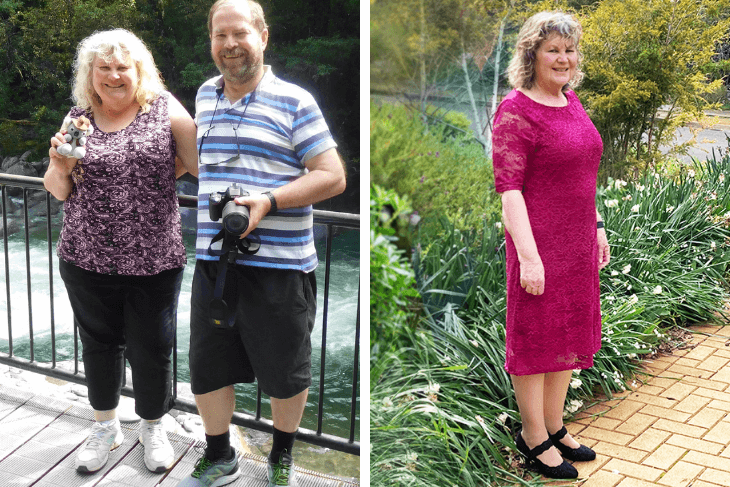 Why did you choose the CSIRO Total Wellbeing Diet over other weight loss programs?
I spoke with my doctor and it was one of the programs she recommended. Plus, I have a friend who had lost weight on the CSIRO Total Well Being Diet and she inspired me. I can't thank her enough for being my mentor.
What advice do you have for others trying to lose weight and reduce their junk food intake?
Have a realistic goal in mind, take slow steps, and enjoy the journey



Try to find healthy alternatives. If I want takeaway I go for an acai bowl or a Subway salad



Lose the weight for yourself, no one else



There are times where the weight is frustratingly slow to come off but don't lose heart


Exercise is important too, so find something that you like doing



Indulge yourself occasionally but don't overdo it. I treat myself to a square of dark chocolate


At the end of the day, you have to want to lose weight and be prepared to make changes to your habits



If you do fall off the wagon, don't beat yourself up, think about where things went wrong, pick yourself up and set a new goal for the week