A long-term poor diet combined with the stress of COVID-19 and lockdowns meant that Brian found himself carrying some extra weight in recent years. A trip to his GP and a blood test confirmed that he needed to lose some weight for his health. 
During Brian's weight loss journey, he inspired and delighted the other members of the CSIRO Total Wellbeing Diet private Facebook group with his regular 'milk bottle' updates. That is, when Brian lost a few more kilos, he would post a photo with empty milk bottles that equated to how much he'd lost so far. It wasn't long until he ran out of space to hold all the bottles! 
Keep scrolling to see how the CSIRO Total Wellbeing Diet worked for Brian, and what inspired him to keep going... 
Starting weight: 109.3 kg 
Current weight: 82.3 kg
Total loss: 27 kg*
*In 25 weeks. Individual results may vary. 
Brian's story
Describe your life before the CSIRO Total Wellbeing Diet  
I was exercising a good amount, but I wasn't able to outrun a poor diet. I had a number of injuries which I put down to exercising while carrying too much weight.
I had been trying to lose weight for a while and had tried a few diets such as calorie counting and meal replacement shake diets. I just found these too hard to stick to and not sustainable. I could keep on it for a couple of weeks but inevitably I would crash out around then. I had a friend start the CSIRO Total Wellbeing Diet and I was keen, with the refund being a good motivation.
How has your life changed since you lost the weight? 
The readings in my blood test that had my doctor concerned have returned to healthy levels.
I also now run five days a week and swim laps one day a week. I'm training for a marathon!
My weekends are now much more active and I can do things with my family that I could never have done before. We did a high ropes course with ziplines recently – I could never have done that before.
In general, I have so much more energy now.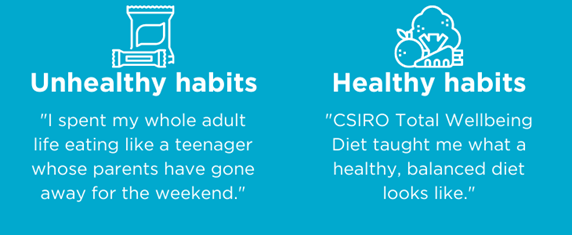 Why do you think CSIRO Total Wellbeing Diet worked for you?
I found the Facebook community really awesome – very supportive and helpful. I learned a lot from reading everybody's stories and their questions.
The tracker for me is absolutely key – I track everything that I eat down to the gram. I'm not perfect, I have bad days, but being honest with the tracker helps me to get back on track for tomorrow.
Flexibility of the program was also a key to success for me. If I don't like a meal (I'm looking at you, tofu!), I can easily swap it for something that I do like.
How did the incentive of a refund motivate you during your program?
The refund was not only a key motivator to sign up, but it helped me stick to the program because to get the refund you have to track consistently. So by following the rules to get the refund, you are also doing what you need to do to be successful in the program.
I thought about the refund a lot, especially I thought about the small clothes I would buy when I got my money back. It turns out that the small clothes I bought after week 12 are practically falling off me after week 24, but that is a nice problem to have.
The refund sets up the framework to do the things you need to do to be successful. If I didn't have to track for the refund, maybe I would never have got into the habit of tracking. Even now, three months after I completed the 12 Week Program, I'm still tracking every meal every day. It's a good habit.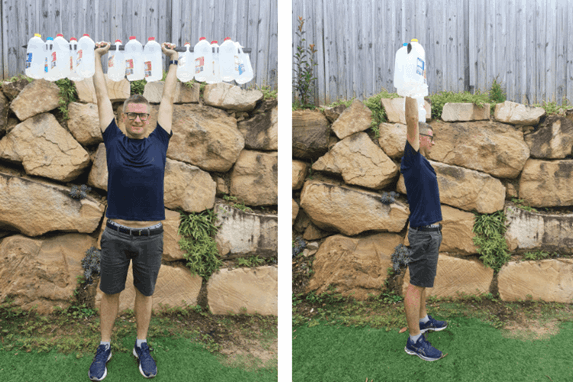 Brian tracked his weight loss with empty milk bottles
Were you surprised with your results?
It's hard for me to even understand how much weight I lost! I track my weight loss with empty milk bottles. I'm up to 13 of them now. When I lift them all, they are heavy! It's hard for me to even comprehend that that's how much I had around my body in fat. I used to carry that around 24x7, now they just sit in my shed as a reminder.
Brian's day on a plate
Breakfast: Mango ginger smoothie
Lunch: Brian's freestyle "Whatever Bowl": any veggies, salad, meat and rice there is in the fridge tossed together (within his food units)
Dinner: Shepherd's pie 
Indulgences: One or two glasses of wine every few days