Lentils, beans and peas are small but mighty nutrition powerhouses that offer loads of health benefits. In fact, these humble heroes – known as 'pulses' – are so good for you that they even get their very own special holiday every year: World Pulses Day (10th February). 
Here are just a few reasons why you should put more pulses on your plate:
Pulses are an excellent source of protein (especially for vegetarians and vegans) and are packed full of vitamins, minerals and antioxidants. 
Pulses are a low GI food, meaning they keep your blood glucose levels balanced for sustained energy release and help to keep you feeling full for longer. 
Pulses are high in fibre and resistant starch, making them super gut-friendly. 
Pulses have been linked to improved blood pressure levels, cholesterol levels, better heart health and prevention and management of obesity. 
Pulses are affordable (think dried chickpeas, lentils and beans) and make for a useful pantry staple. 
Pulses are easy to incorporate into meals to bulk up the nutritional content (throw some chickpeas into a salad, add lentils into your bolognaise sauce, or mash up some cannellini beans with your smashed avo!) 
The CSIRO Total Wellbeing Diet features loads of recipes and meals that include chickpeas, lentils and beans of all sorts! Check out some recipes below, or join today and find a meal plan that suits you. 
Vegetable dahl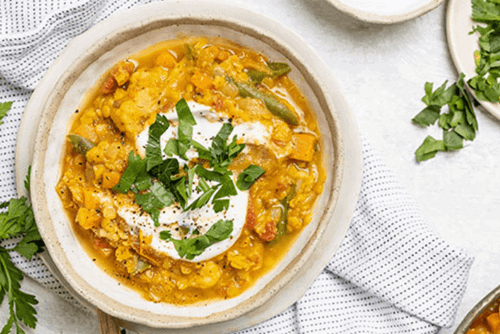 Red lentils are a staple in South Asian cooking. This protein-packed and flavoursome recipe features red lentils as a base, along with a bunch of veggies for a hearty, nutritious meal.   
Recipe: Vegetable dahl
Black bean and dark chocolate brownies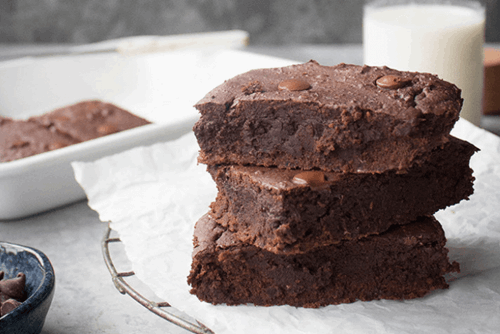 You may have thought pulses were only used in savoury dishes, but this recipe proves just how diverse these little legumes can be! These black bean brownies are a CSIRO Total Wellbeing Diet member favourite – for good reason. Who said dessert can't be healthy?
Recipe: Black bean and dark chocolate brownies
Meze plate with falafels, grilled vegetables and homemade hummus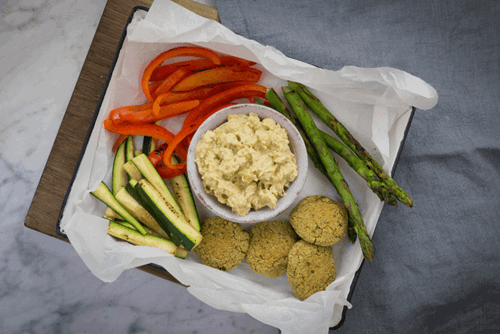 Chickpeas are a super versatile ingredient that can be eaten on their own as a snack, blitzed into a dip or incorporated into different kinds of dishes. In this recipe, chickpeas are used in two ways: to create a chunky, delicious hummus, and to make falafels.  
Recipe: Meze plate falafels, grilled vegetables and homemade hummus
Lentil ratatouille with poached egg and pesto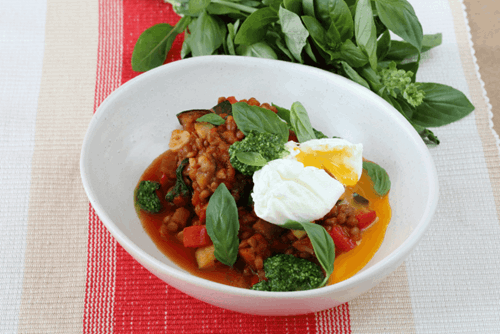 The addition of tinned lentils to this classic veggie-based stew gives it a protein-punch and boosts the fibre content (hello, happy gut!).
Recipe: Lentil ratatouille with poached egg and pesto
Looking for weight loss motivation, dinner inspiration or exercise ideas? Check out the CSIRO Total Wellbeing Diet blog or take a look at more of our delicious, healthy recipes.