Member Heidi found herself struggling with emotional eating and gradual weight gain after having two children and working in a stressful environment. However, it wasn't until her role at work became more physically demanding and her energy plummeted that Heidi realised she needed to prioritise her health and wellbeing.
After trying various other diets unsuccessfully, Heidi discovered the CSIRO Total Wellbeing Diet, which proved to be a game-changer. In just 12 months, she was able to shed an incredible 40 kg* and she has successfully maintained this weight loss for a year and counting.
*in 12 months. Individual results may vary.
Heidi's life before the weight loss  
Before her weight loss journey, Heidi suffered from high blood pressure and had very little energy. She didn't exercise much at all, and her weight had started to affect her quality of life.
"I would get very tired, and I would fall asleep quite early at the end of my working week. While holidaying in Queensland I was scared the safety barrier on a theme park ride wouldn't close over my tummy. Luckily it was fine, but these are things that go through your mind when you're overweight. I've never eaten huge amounts of food, but I've since realised my diet wasn't very balanced. I've always loved chocolate but since following the program, I no longer crave sugar."
"I had tried quite a few other diets - Weight Watchers, Sure Slim and Healthy Inspirations are just some of the ones I've tried. I had some success, but they were always hard to stick to. The CSIRO Total Wellbeing seemed sensible and more like a lifestyle change. With the incentive of the refund, I felt I had nothing to lose, except 40 kg!" (Individual results may vary.)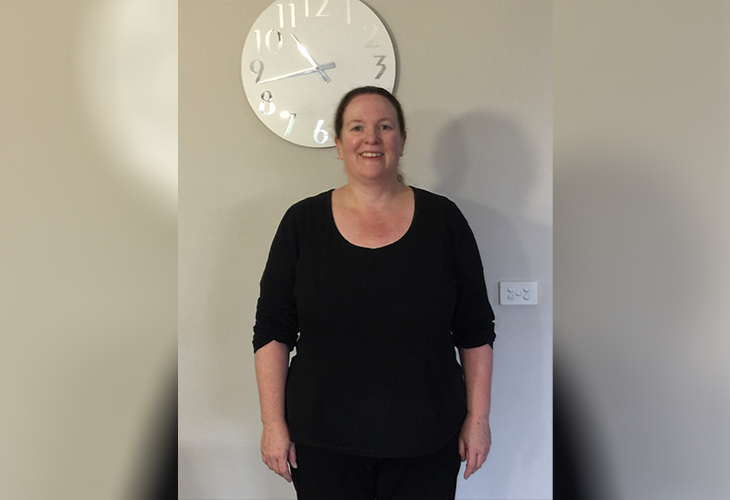 CSIRO Total Wellbeing Diet and long-term success
According to Heidi, the CSIRO Total Wellbeing Diet was instrumental in her success. She never felt hungry during the program, and it helped her break the cycle of emotional eating that had contributed to her weight gain. From the beginning, she knew that she would be changing her habits for life, and she has kept that promise to herself.
Maintaining her weight loss for over a year, Heidi credits her success to consistent tracking of her food, planning her meals, sticking to her food units, preparing breakfast and lunch the night before, and walking most days.
"I lost 40 kg in a year. I weighed 107 kg the week before I started the CSIRO Total Wellbeing Diet, and I weighed 66.8 kg a year later."
"There were weeks when my weight stayed the same or even went up. I tried not to let it bother me as I knew this would be a long-term lifestyle change. Christmas and special occasions can be challenging but I still enjoy these days and get back on track the next day."
"My whole life I've been an emotional eater, but I no longer think about food. This has been life changing because food no longer has power, it's just food and nothing more. From the beginning I knew I would be changing my habits for life. I wasn't on a diet. I kept telling myself that I wasn't going to make any changes that I wasn't willing to continue for the rest of my life."
"Everything I was doing to lose the weight I'm still doing now. Eating healthy and walking are just a normal way of life for me now. I feel great so I want to keep feeling this way. Being able to enjoy a daily indulgence helped me succeed long-term."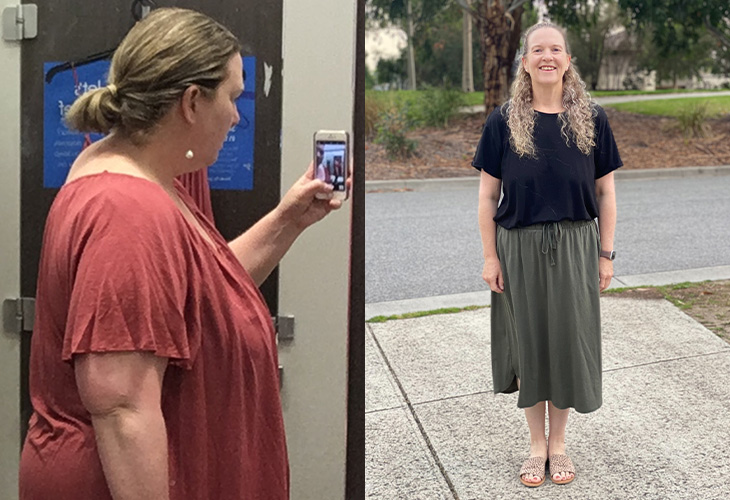 Heidi's life now
"At my heaviest, I started suffering high blood pressure. Since the weight loss my blood pressure has dropped significantly. My doctor is thrilled and has said I have reduced my risk of health complications significantly."
"I feel great and I have lots of energy. I feel like all aspects of my life have improved. I love life now and I make the most of every day. I'm a much happier person and I'm setting a good example for my boys."
"I love the food because it fills me up. The recipes are fantastic and I still can't believe I lost weight eating such yummy food. My favourite recipe is the nutty banana overnight oats and I also love the ricotta hotcakes - we have them every Sunday!"
Her advice for others who are considering trying the program is to just do it.
"Join CSIRO Total Wellbeing Diet. It's the best thing I have ever done. I never felt hungry or deprived. I could still enjoy a daily indulgence. The food is delicious. If you don't have a lot of time to prepare food then you can freestyle which is what I did. This just means you choose your own food whilst sticking to your allocated units. The program is very flexible. Don't obsess over the scales. Some weeks I lost 100g, or stayed the same weight, but I kept going. This is a lifestyle change."
Are you trying to lose weight? Read our comprehensive guide on weight loss to understand where to begin, what happens when you lose weight and what doesn't work when it comes to dieting.