Although Poppy ate a healthy diet most of the time, she now recognises that her portion sizes were too large, and that the little treats she was adding to her diet each day were actually indulgences. Despite exercising most days, these daily habits left her feeling that although she was "doing everything right," her body and weight didn't reflect her efforts.
In addition to this, Poppy was also facing health issues that caused her to gain weight and although her doctor felt losing weight was the least of Poppy's concerns, she knew she felt differently and wanted to try something else in order to get back to her pre-medication size.
After finding CSIRO Total Wellbeing Diet, Poppy took the CSIRO Healthy Diet Score survey, before and after commencing the program and was amazed at the difference in her results.
Name: Poppy
Starting Weight: 76 kg
Current Weight: 64.5 kg
Total Loss: 11.5 kg*
*In 10 months. Individual results may vary. 
Poppy's story
Describe your life before the weight loss, including your eating and exercise habits. Are there any incidents you can recall where your weight was an issue?
I always ate a healthy diet and exercised 5-6 days per week, but continually added little bits and pieces to my diet each day that I didn't realise until I started the diet were actually considered indulgences. Although 90% of the food I ate was healthy my portions were out of whack. Although I felt like I was doing everything right, my body and weight didn't reflect this.
What was 'your moment of truth' that made you decide you finally had to lose the weight?
I have a lot of health issues, including being on high amounts of steroid medication that caused me to gain weight. I also had to be on medication to keep me in a false menopause. After I was weaned off the steroid meds, the weight didn't come off. My specialists felt that considering the medications I had to be on, that my weight was actually good and healthy and they felt losing weight was the least of my worries. I felt differently and just wanted to give something a go to see if I could get back to my premedication size.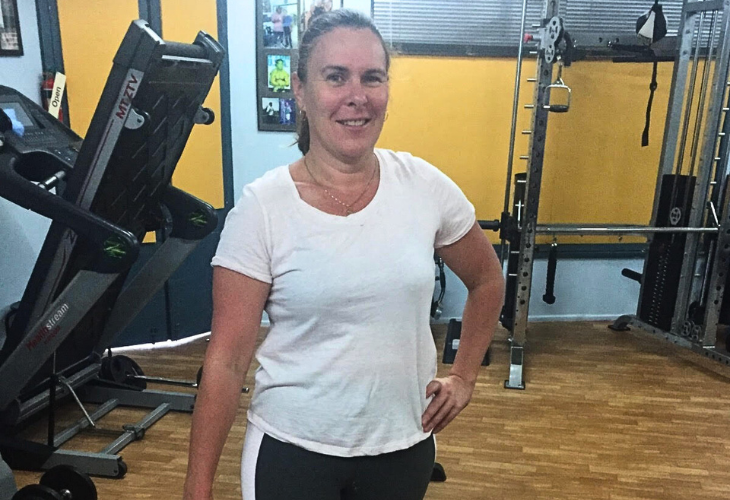 Why did you choose the CSIRO Total Wellbeing Diet?
I didn't want to be on a diet that restricted my calories too much as that would cause me to lose muscle which I wanted to maintain as then it would be easier to keep the weight off. I liked that the CSIRO Total Wellbeing Diet was scientifically proven and that there were no gimmicks - it was more about getting the correct units per day for each food type rather than trying to stick to a certain calorie amount.
Describe a typical day now in terms of what you eat as well as exercise? 
Each day I exercise in the morning either weights, run or reformer pilates. Once I am home from training, I eat my breakfast of oats, pumpkin seeds, chia seeds, hemp seeds and almond milk with poached apples. 
For lunch I usually have a soup with grain bread in winter or a chicken or roast beef salad sandwich in summer. For dinner, I have one of the recipes from the Meal Plan and for dessert I have my fruit with coconut yoghurt. I don't snack any more throughout the day. I drink at least 2 litres of water per day and usually have a cup of tea in the morning and afternoon.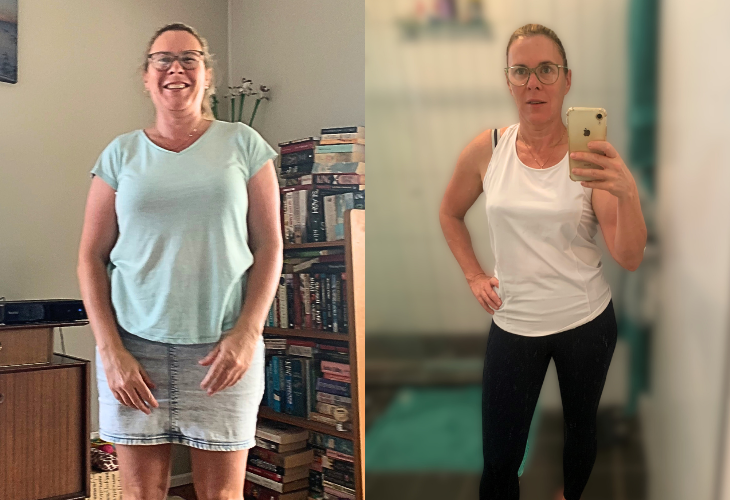 Poppy's Healthy Diet Score
Tell us about your Healthy Diet Score? 
My original Healthy Diet Score was around 67/100, I was happy that it was above the average but as I ran through the questions I realised there was quite a bit of tweaking I could do to my diet to improve my score. I recently completed the diet score again and scored 81/100 - a huge improvement that I attribute to removing alcohol from my diet, and no longer eating processed foods.
Did doing the Healthy Diet Score encourages you to make a change?  
The Healthy Diet Score helped me to realise that it wasn't just weight loss that mattered but living a healthier lifestyle as well. Improving my overall eating was the main goal and the weight loss an extra bonus. It also helped me in the way I approached the new diet. This wasn't going to be just a diet but a full lifestyle change.
What do you do to maintain a healthy diet?
I have finished both the 12 Week Program and Program 2, but I still pay my monthly Loyalty subscription and use it to set-up my meal plan and shopping list each week to keep me on track and healthy.
What advice would you offer to others who are trying to lose weight and improve their diet?
I decided once a week I would have a dessert or sweet treat that fits into my plan, but was also something really yummy. This helps me to keep on track, especially on the weekends. For anyone else looking to make a diet and lifestyle change, my number one piece of advice would be to do the same so that you don't ever feel as though you're depriving yourself. I would also recommend removing processed foods from your diet where possible. Finally, I would advise anyone to make sure that their new eating and exercise regime is sustainable. This should be a lifestyle change that lasts forever, so any changes you make need to be ones that you'll be able to stick to!
Are you trying to lose weight? Read our comprehensive guide on weight loss to understand where to begin, what happens when you lose weight and what doesn't work when it comes to dieting.