Sweet or savoury? We've got you covered for your mid-afternoon healthy snacks!
It's a common dilemma around the workplace: you're at your desk and by the time mid-afternoon strikes, hunger and cravings can kick in.
But if you're trying to stick to a healthy diet, it can be a challenge to satisfy your taste buds while keeping your waistline in check.
Go beyond your chopped up carrot, cucumber and celery sticks with these ten deliciously healthy and on-the-go snack ideas that satisfy any craving, whether it's for something sweet or savoury. They also provide the right amount of nutrients and serving sizes that won't put a dent in your healthy eating plan.
1. Berries + low-fat yoghurt
- 1 Fruit unit, 1 Dairy unit - 
Mix 1 cup of fresh mixed berries with 1 tub (175g) of low-fat yoghurt.
This is a sweet, creamy and filling snack that feels completely indulgent. The combination of fibre and natural sweetness from the berries with the protein from the yoghurt will keep you satiated to ensure you get over any 3pm slump. Great for those with a sweet tooth.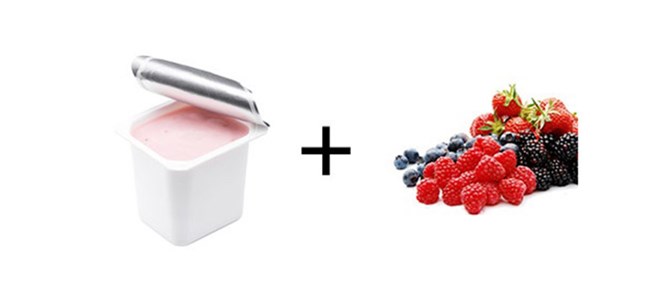 2. Apple + nut butter
- 1 Fruit unit, 1 Healthy Fats & Oils unit - 
Slice 1 apple and serve with 1 heaped teaspoon of nut butter.
Naturally sweet, high fibre and low in kilojoules, apples are a great healthy snack option. Pairing it with a spoon full of protein-packed nut butter will make it more satisfying and will sustain your energy and hunger levels for a couple of hours.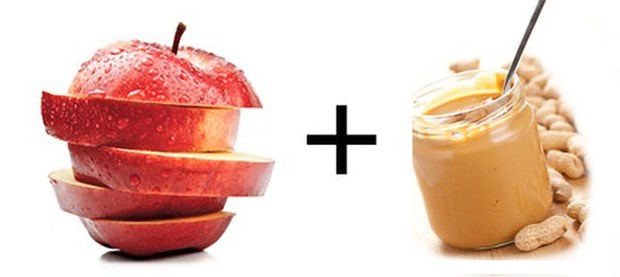 3. Pear + cheese 
- 1 Fruit unit, 1 Dairy unit -
Enjoy 1 pear with two slices of reduced-fat cheddar cheese (50g).
This perfect sweet and salty snack has loads of crunch and is also the perfect carb and protein combination. It also provides a good dose of bone-building calcium from the cheese.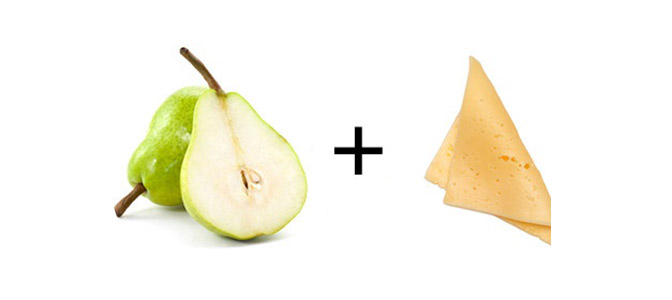 4. Low fat yoghurt + nuts + honey 
- 1 Dairy unit, 1 Healthy Fats & Oils unit, 0.2 Indulgences -
Mix 1 tub (175g) of low fat yoghurt with 1.5 teaspoons of crushed nuts (7g) and a teaspoon of honey.
Resembling a parfait, this healthy alternative is full of protein and healthy fats to keep you satiated, and the natural sweetness from honey to make it feel like you're having the real dessert, without guilt!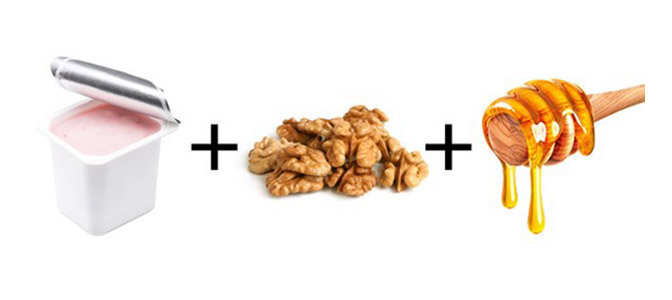 5. Wholegrain bread + ricotta cheese + strawberries 
- 1 Bread & Cereals unit, 0.5 Dairy unit, 0.3 Fruit unit - 
Spread 3 tablespoons of ricotta on 1 slice of wholegrain bread, and then top it with a few sliced strawberries.
A snack that tastes just as good as it looks, this combo of fibre-filling bread, with protein from ricotta and vitamin C from strawberries is a nutrient-rich mini-meal that will keep you fuelled before dinner time.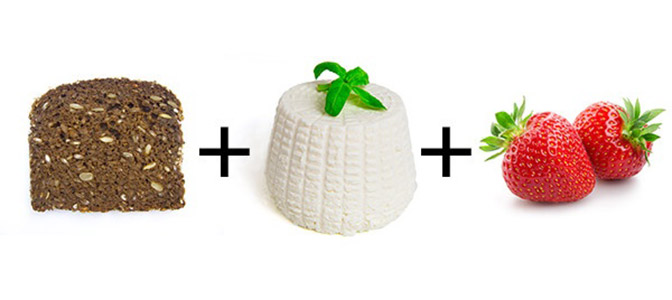 6. Dark chocolate 
- 1 Indulgences unit - 
Enjoy 4 small squares of quality dark chocolate.
Being on a healthy diet doesn't mean you can't have chocolate. Just make sure you look for a good quality dark chocolate – preferably 75% cocoa onwards where the antioxidant level is higher and the sugar content is lower - taking time to savour every bite and eat slowly. Stick to three to four squares though, no matter if it is healthier!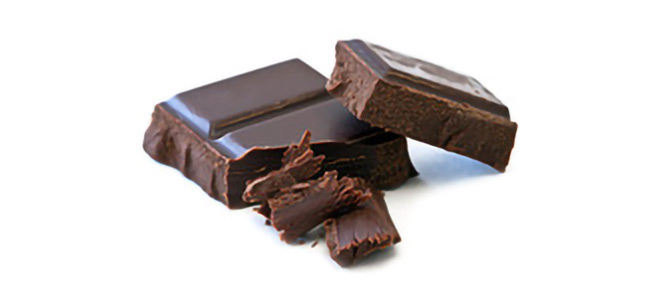 7. Grapes + walnuts 
- 1 Fruit unit, 1 Healthy Fats & Oils unit - 
Mix 120g of grapes with five walnuts.
A super portable snack, this is a powerful combination of natural sugars, fibre, healthy fats and protein.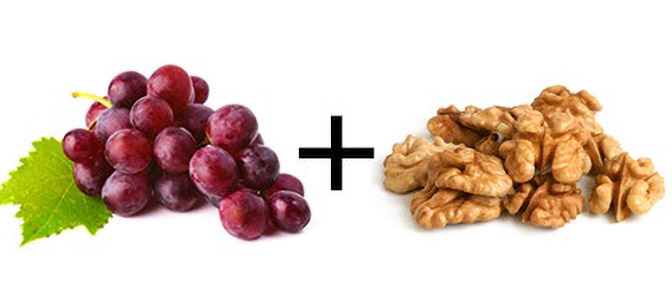 8. Wholegrain bread + peanut butter + banana
- 1 Bread & Cereals unit, 1 Healthy Fats & Oils unit, 1 Fruit unit - 
Spread 1 heaped teaspoon of all-natural peanut butter on a slice of wholegrain bread, and then top it with 1 sliced medium banana.
A classic combination of delicious foods, the carbs from the wholegrain bread and banana will give you a quick boost of energy, while the protein will keep you satisfied for hours.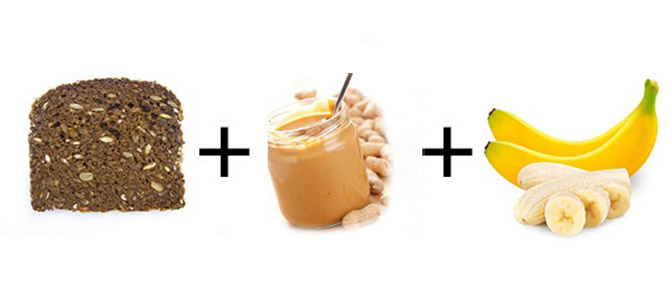 9. Greek yoghurt + blueberries + cinnamon 
- 1 Dairy unit, 1 Fruit unit - 
Mix 1 tub low-fat Greek yoghurt (200g) with 1 cup of blueberries and a dash of cinnamon.
Containing a higher level of protein than regular yoghurt, Greek yoghurt will keep your hunger pangs at bay. It's also full of bone-building calcium and gut-healthy probiotics. Adding blueberries and cinnamon make this a winning combination to satisfy any sweet craving.
10. Fruit + veggie smoothie 
- 1 Fruit unit, 1 Dairy unit, 0.5 Vegetable unit -
Blend 1 banana, 1 cup of chopped kale or baby spinach, and 1 cup of reduced-fat milk.
Leafy greens like kale and baby spinach are low in kilojoules yet filling because of their high fibre content. Banana adds gut-healthy resistant starch and sweetness, while skim milk provides protein and creaminess.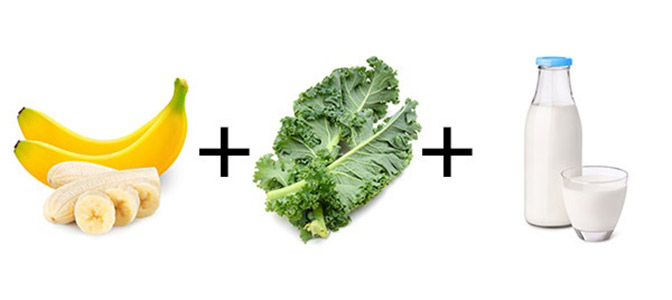 Looking for weight loss motivation, dinner inspiration or exercise ideas? Check out the CSIRO Total Wellbeing Diet blog or take a look at some of our delicious, healthy recipes.