When Lyn joined our program, she weighed in at 148.5 kg. She couldn't use a regular airplane seatbelt, she had to buy her clothes online from the US and she planned her day to minimise walking.
"I thought I was eating ok, but on reflection, I was eating lots of chips, fried foods, chocolate (my downfall), and I was eating portions that were too large – then having lots of snacks between them," she explained.
"The bigger I got, the less I was able to physically do. So instead of moving and being active, I became even larger and more sedentary."
Initially, Lyn told herself that getting bigger was simply a part of getting older. But when a routine blood test revealed that she had type 2 diabetes and high blood pressure, she knew she had to make a change.
"I had come to the point where my long term health was in real jeopardy and I was the only one who could really change that."
*Individual results may vary.
Making the change
Motivated to improve her quality of life, and with the full support of her family, Lyn signed up to our Special Edition for Type 2 diabetes program.
She carefully followed the menu plan and recipes, making sure she weighed her food and stayed on track. And, in the space of just 12 weeks, Lyn lost an amazing 16.5 kg* and received a refund!
*Individual results may vary.
Related: Learn more about our Special Edition for Type 2 diabetes program
"The first few months were great! So much weight was dropping off and clothes that had been too tight were suddenly loose and needed a belt to stay on!"
"My family were very supportive. My married children also followed the diet with me for the first few weeks, which was great because we could all compare the food! Everyone found it tasty and good for the whole family."
Spurred on by this progress, Lyn decided to stay on our monthly loyalty plan – and just two years later, she had lost an incredible 68 kg*.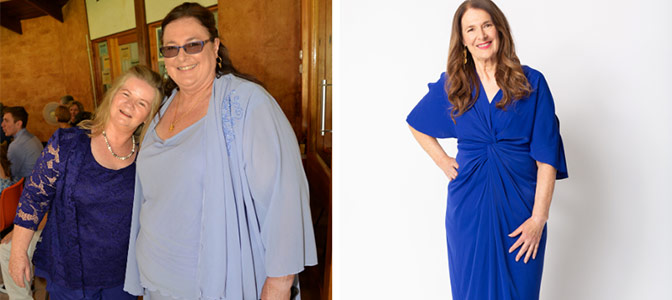 The journey to health and happiness
Losing 68 kg* has come with more health and fitness benefits than Lyn could have ever imagined.
"I feel as if I'm 10 years younger! In the past it was always me who couldn't join in, but now I'm usually the first to get going."
"I never thought I'd be able to walk as much as I can now. My family bought me a Fitbit about two months after I started the diet and back then I was struggling to even do 3,000 steps. Now I regularly manage 11,000+."
"My health is also so much better after the weight loss. My doctor couldn't get my blood pressure down and was very concerned, but now, all results are well within acceptable levels."
On top of all of this, Lyn's confidence has soared.
"I have more confidence when meeting people – I have been quite withdrawn and self-conscious in the past, so I didn't enjoy going to new places and meeting new people, but now I feel as though I am more worthwhile, not just the fat old lady in the corner!"
*Individual results may vary.
Learn more: Our weight loss programs for specific health conditions
Click here to read more inspiring CSIRO Total Wellbeing Diet success stories.