It was when she could no longer fit into her pre-pregnancy clothes that Genevieve decided it was time to lose the weight she had gained over her two pregnancies. After joining the CSIRO Total Wellbeing Diet, Genevieve lost 18 kg*, and credits the program for helping her feel happier, lighter, more energetic and more confident.  
Starting weight: 91 kg
Current weight: 73 kg
Total loss: 18 kg*
*In seven months. Individual results may vary. 
Genevieve's story 
Describe your life before the CSIRO Total Wellbeing Diet
Before the program, I thought my eating habits were relatively healthy and I felt like I had regular exercise following two kids all day. However, I found that I was actually eating too many carbs and not enough protein or dairy. I was trying to exercise on a regular basis, but was feeling really sluggish with the kids and the weight that I'd put on when I was pregnant. 
My moment of truth was when I realised that I couldn't wear any of my clothes that I owned before I was pregnant. I was embarrassed to look in the mirror.
Why did you choose the CSIRO Total Wellbeing Diet? 
I hadn't tried other diets before the CSIRO Total Wellbeing Diet because I didn't trust them. I felt like diets were all about removing food groups and "banning" fun foods. I used to dread the thought of a diet. Before trying the CSIRO Total Wellbeing Diet, I had dabbled with a few other apps to try and help me track my food intake and exercise, but they were honestly all too hard to navigate and use. I felt like nothing was working and thought that there had to be a better way.

The reason why I chose the 12 Week Program was because of the win/win option. My husband had found the CSIRO website and suggested it. I thought the CSIRO is a reputable, science-based organisation and here they are offering a full refund if I did the three simple steps (log my weight, take a photo and lose weight). I literally had nothing to lose but the weight!

Seeing how easy the app was to use, all the tools that were provided and the fact my meal plans were already set was the winner. I signed up straight away.
How has your life changed since you lost the weight? 
I feel so much happier and more confident now with how I look and my health choices. This is honestly the best life decision I've ever made! I have more energy now to play with the kids and enjoy the time we have together as a family. I'm more active, more present with my kids and my husband, and I'm just enjoying life like I used to.
What does a typical day look like for you now? 
I still follow my meal plan pretty much to the letter.
I also followed the exercise plan whilst doing the first 12 weeks of the diet and have maintained regular exercise. My typical week of exercise includes walking with my kids to day care and walking to pick them up each day, as well as slotting in some strength-based training three times a week.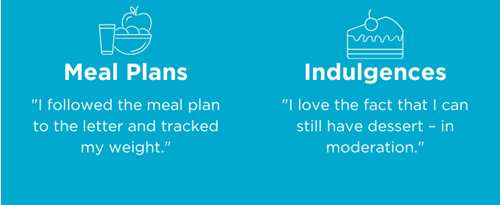 How important were these three behaviours to your success: weighing in regularly, tracking your food and following the meal plan? 
Weighing in regularly has been a major factor in my weight loss. Regularly weighing in has kept me accountable to myself and my journey on weight loss. There have been weeks where I have been disappointed in my lack of weight loss, but this spurred me on further. Being self-conscious most of my adult life of my weight, I was always nervous to use scales. But this diet has made me confident in my eating and exercise to the point where I am confident in weighing in, knowing I would have likely lost weight each week.
Tracking my food was really key to my success over the 12 weeks. It helped me to learn about portion sizes of different food groups and how this impacted my weight. I used this so much I now know my food groups and portions from memory.
Following the meal plan was the best part of the diet. I always used to dread figuring out what to have for dinner each week and didn't really think about breakfast and lunch. Now I have no stress in my meal plan and love the fact that I know my day is balanced. This had to have been one of the biggest drivers for starting the diet. The CSIRO Total Wellbeing Diet has been a life changer, and honestly the best decision I've ever made.
Why did the CSIRO Total Wellbeing Diet work for you? 
The program is so flexible and doesn't remove or "ban" any food. The CSIRO Total Wellbeing Diet worked for me because it taught me how to understand portion control and what it meant to eat healthy portions. I love the fact I can still have dessert – in moderation. This was a massive reason for success for me.
Overall, this lifestyle change has been so easy to implement with all of the support that is provided. From the weekly program readings, to the dietitian sessions, the Private Facebook group and the ease in which I can use this in my family's day-to-day meals has mean that the CSIRO Total Wellbeing Diet is, essentially, fail safe. My whole family has benefited from learning how to eat healthy and how to manage portions in our meals.
What advice do you have for others trying to lose weight? 
Stick with the CSIRO Total Wellbeing Diet. The change might be big at first, but eventually it will be a lifestyle choice that you will never regret!
Genevieve's day on a plate
Breakfast: Rhubarb and ricotta fruit toast
Lunch: Minute steak sandwich with pesto and grilled vegetables 
Dinner: Slow baked chicken with black olive, tomato and oregano
Dessert: 🔒 Caramel banana split (member exclusive recipe)
Check out some more inspiring CSIRO Total Wellbeing Diet success stories.