Ever wondered what dietitians eat over the silly season? Do they have iron-clad willpower to stick to their healthy diets? Or, do they also love to take any excuse to indulge?
 
We asked Senior Research Scientist and Dietitian for CSIRO Nutrition and Health Dr Jane Bowen, what festive food she and her family will be eating – plus her top tips on how we can eat, drink and still prevent the bloat during the holidays. 
Check out some more holiday season health tips: Christmas health tips for your Diet Type
Dr Jane Bowen, Senior Research Scientist and Dietitian for CSIRO Nutrition and Health 
What does your Christmas feast look like?
First and foremost I plan an array of colourful salads – it's a chance to get creative. I like to use herbs, nuts, seeds, spices, summer fruits and citrus dressings to give each salad that 'wow' factor.

My current favourite, which I'll make this Christmas, combines grated zucchini and finely shredded green cabbage, tossed together with an abundance of roughly torn mint and dill, then finished with a dressing of lemon juice, olive oil, natural yoghurt and a hint of mustard. It's crisp and fresh, which is perfect for a hot Christmas day.
Our Christmas feast wouldn't be complete without a roasted turkey. While we wait for the turkey to cook, we will start the meal with a Thai salad topped with some prawns or mini skewers of grilled fish.
To complete our meal, we used to be traditional with a Christmas pudding and mince pies. But now, with my little nephew's nut and dairy allergies to consider, w
e have a new tradition of pavlova topped with luscious summer berries and stone fruits. Keeps him safe and probably saves our waistlines a little bit, too!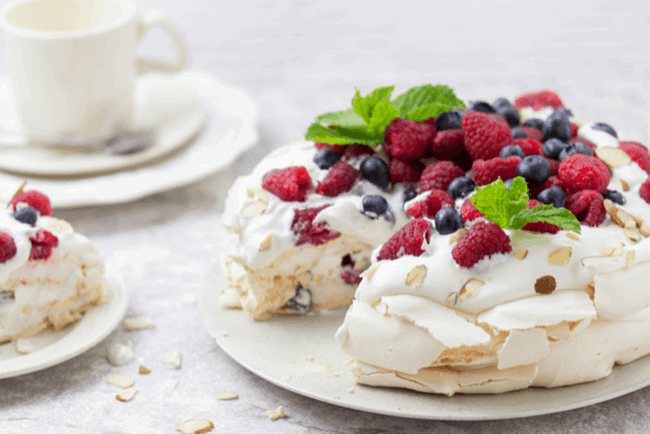 Will you be indulging in anything in particular?
Given that my year is busily divided between my three beautiful children and work, I indulge in time. Time with my family and friends, time spent preparing beautiful, healthy food, and time to both relax and get active… Oh ok, and a traditional Italian Panettone for breakfast while the kids open their presents!  
What is your number one tip for beating the Christmas bloat?
It's all about portion control – mince pies are great, but keep a tally on how many you eat! Try to curtail eating to mealtimes, and limit the amount of grazing you do in between.

Want more healthy Christmas recipe ideas? You might like to try the CSIRO Total Wellbeing Diet's Christmas menu: