The recent wave of COVID-19 infections in Australia has meant that more and more people are isolating at home for at least seven days. If you're a close contact who is self-isolating, follow some of our tips on how to look after yourself during this time. If you've tested positive to COVID, make sure to follow the health advice.
1. Stock up on pantry staples and long-lasting fruit and veggies
Sticking to your healthy eating goals if you're self-isolating takes a bit of planning. Try to do an online shop and stock up your pantry with staples that allow you to create quick and healthy meals. Think foods like:
Low GI grains (brown rice, quinoa, pasta, oats)
Low GI wraps and crispbreads
Tinned tuna and legumes (chickpeas, lentils, cannellini beans, kidney beans)
You might think that a week's worth (or more) of fresh fruit and veggies is out of the question, but there are a range of fresh foods that last a surprisingly long time! Onions, sweet potato and cabbage will keep for months, while apples and pears can stay fresh for weeks.
Of course, as supermarkets face shortages, you may not be able to get your hands on as much fresh produce as you are used to. In that case, frozen fruit and veggies work just as well and are still loaded with all the nutrients you need!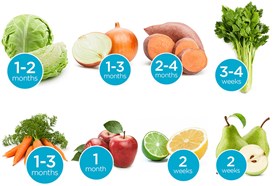 Read more: 8 longer-lasting and super healthy fresh foods
2. Stay hydrated
Being stuck at home can sometimes mean your hydration habit can start to slip. The reality is it can be even easier to drink more water thanks to constant access to a tap (and your toilet!) when you're stuck at home all day.
Staying hydrated offers loads of benefits to both your physical and mental health. There is growing research that supports the importance of adequate hydration in maintaining proper health and weight management.   
Check out our blog for some tips on how to build a healthy hydration habit.   
3. Stay connected to family and friends
Being socially isolated from family and friends can be the most difficult part of staying home for a week – especially if you live alone. If you can, schedule in daily phone calls or video calls with your nearest and dearest. It's the perfect way to pass the time and it'll give you something to look forward to everyday.
4. Move your body
Not being able to access the gym or head outside for a walk doesn't mean you can't incorporate some exercise into your day. Moving your body every day is great for your physical and mental health, and can help you sleep better at night.
Check out this whole-body workout you can easily do in your living room, or head to our Facebook page for some exercise routines with dietitian and PT, Ali!
If you're still not feeling inspired to move, just remember it doesn't need to be structured. Throw on your favourite songs, turn up the volume, and have a dance party in your living room! Activities like gardening and housework also count.
5. Get fresh air
Nothing will drain your energy faster than being stuck inside all day breathing in the same stale air. While you're self-isolating at home, try and get some fresh air every day. If you're lucky enough to have a backyard or a balcony, spend some time outside throughout the day; enjoy your breakfast in the morning sun or walk a few laps in the garden for exercise. You could even treat yourself to a picnic at home!
If you don't have access to any outdoor space, try to keep the windows open to allow fresh air into your home. This is especially important if someone in your home has tested positive for COVID-19; good ventilation and air circulation could help to minimise the risk of the virus spreading indoors.
6. Balance your downtime
If you're not working from home, it could be tempting to spend your isolation period planted on the couch all day, or staying up late to binge watch TV. While you should absolutely indulge in some downtime, try to balance it with healthy habits as well:
Stick loosely to your regular sleep schedule so there isn't too much adjustment when you're back to your normal routine.
For every 30 minutes of TV you watch, do 30 minutes of living room exercises – or try multi-tasking and stretch or ride a stationary bike while you catch up on your favourite show.
Try to avoid snacking while you're watching TV, but if you do make sure to snack on healthy foods like veggie sticks, fresh fruit or homemade air-popped popcorn.
Keep a water bottle by your side so you remember to keep drinking.
Opt for reading right before bed over staring at a screen to avoid too much screen time impacting the quality of your sleep.
7. Go easy on yourself
This is an extremely trying, stressful time for everyone. Go easy on yourself right now and don't add extra pressure to be perfect if it adds more stress to your life. Just do what you can, and get back on track when you're out of isolation!
Read more about this topic: